A wedding ring is a ring worn by a married person for a number of reasons, but mainly to symbolize their love and commitment to each other. In some cases, the wedding rings are also used to show the world that they cannot be worn by anyone else. Wedding rings are often made from precious metals or gemstones that signify the life that has been shared between the couple, and it is not uncommon for them to be inscribed with words such as "Love," "Endless," or "Eternal."
The Tradition of Wedding Rings
During a wedding ceremony, there may be a time when the bride and groom exchange their wedding rings. This tradition started over 100 years ago when people were trying to find a way of making sure that their partner wasn't giving their wedding rings to other women or men during a time that they were apart. By exchanging the rings, it showed that the ring was going from one person to another and couldn't be given away during those times.
Rings To Suite Every Taste And Budget
In today's world, however, there are so many different types of wedding rings available for you to choose from, which means that you can pick the ring that suits both your personal tastes and your budget.
The best part about shopping for a wedding ring is knowing what to look for when it comes to quality. One of the most popular materials used in making wedding rings is titanium. Titanium has many great qualities, including being lightweight, durable, hypoallergenic and corrosion-resistant. Admittedly, I also wear a titanium wedding ring which has been on my finger for 8 years now and still looks like new.
Make Sure the Ring Fits Properly
After you've chosen the style and type of ring that best suits your tastes, it's important to choose a craftsman to make sure it fits properly. When possible, take the ring with you when trying on clothes so you can see if it will fit under your shirt sleeves or above your knuckles. It should fit comfortably without being too tight, which could result in discomfort to your ring. The last thing you need is to try to put a ring on during your wedding ceremony only to find it is too small, so it's a good idea to check your ring prior to your wedding day to avoid any embarrassment on your wedding day.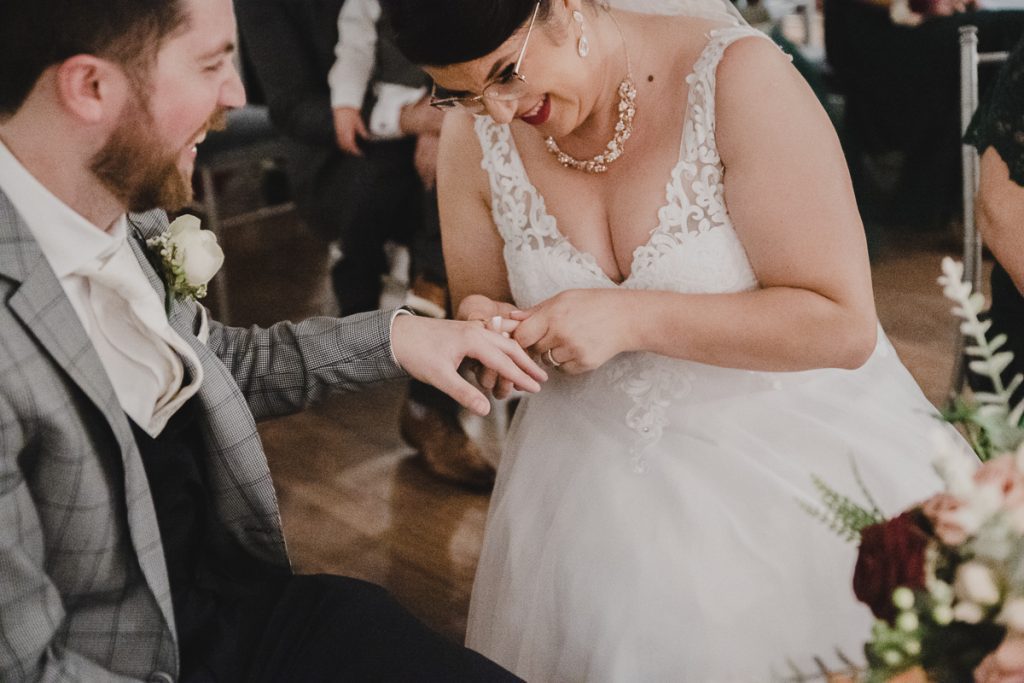 Taking Care of Your Wedding Ring
After you've purchased your ring and had it sized, how you care for your ring is important in ensuring that it stays in pristine condition. An example would be to take your ring off while washing dishes so it doesn't get scratches from metal cutlery rubbing against it.
Another suggestion is to invest in an ultrasonic jewellery cleaner which will ensure any engravings or designs on the ring don't get clogged up with dirt.
Storing your wedding rings with other jewellery in a jewellery box isn't a great idea either, because the metals can scratch each other.