Wedding photography is one of the most important aspects in planning your wedding. Wedding photos can be displayed on tables, walls, and albums for years to come. Wedding photographers are able to capture the moments that you will never forget. Wedding photographers take all sorts of shots from traditional family shots to candid poses with family members or friends. Wedding photographers make sure that every detail is documented so you don't miss anything!
Wedding photographers may provide several different types of photography services including Wedding , Wedding Photojournalism, Wedding Traditional , Wedding Candid and Wedding Portrait Photography. Each service has its own type of wedding photos that you can expect when it is coupled with the styles in which your wedding photographer likes to shoot in.
Traditional Wedding Photography
When it comes to wedding photography styles in Ireland, the typical/classic style is the most likely style you think of when you imagine wedding photos. These are generally formal, posed photographs taken at eye level. Consider family and wedding party pictures that would go in a photo album. While the word traditional has a negative undertone, this picture style continues to stand the test of time due to its classic appearance. As a result of its timelessness, traditional wedding photography can be very popular among older couples who want to commemorate their special day with dignified and elegant formal photos.
Posed traditional or classic wedding photographs are usually taken during the ceremony, part of the reception (referred to as "formals") and family portraits. Though this style traditionally keeps all guests out of frame, in todays wedding photography you will find that many professional wedding photographers welcome candid moments in these formal settings.
Professional and amateur wedding photographers alike tend to use a classic or traditional style. Images that lack spontaneity and look like they could have been taken decades ago do not lend themselves to the traditional/classic approach. If you want your wedding photos to include both posed and candid snapshots, ask your wedding photographer if their style is well-suited for such a hybrid of styles before you make any decisions or sign any contracts.
Some traditional style wedding shots could include the bride preparing with maids of honour, bride getting into dress, bride posing with parents or other adults, bridesmaids preparing themselves for the bride's arrival, groom posing with groomsmen, bride and groom together
Contemporary Wedding Photography
Contemporary wedding photographs are modern, not new. They may be casual or formal but they offer a fresh look to Irish weddings. Weddings are special events so why should your wedding photos reflect something less?
Contemporary photojournalists follow couples throughout their day with their cameras, capturing every moment regardless of whether it's considered traditionally beautiful or perfect . These images are more natural than posed shots, though the wedding photographer will pose the couple if necessary. The action is captured naturally, just as one would see it playing out before them. These images may be aesthetically beautiful, but they might not be about the mood of the day or the couple as characters; instead, minimal makeup is prevalent in contemporary photography.
Photojournalistic
When most people think of wedding photography, they think of traditional posed shots with the bride and groom. However, there is a style of wedding photography that has become increasingly popular in recent years, that style is wedding photojournalism. Photojournalistic wedding photography captures the moments as they happen, without staging or posing the subjects. This type of photography can be more natural and spontaneous, resulting in wedding photos that are more meaningful and memorable, showing you wedding day as it happens without very much intrusion from the photographer.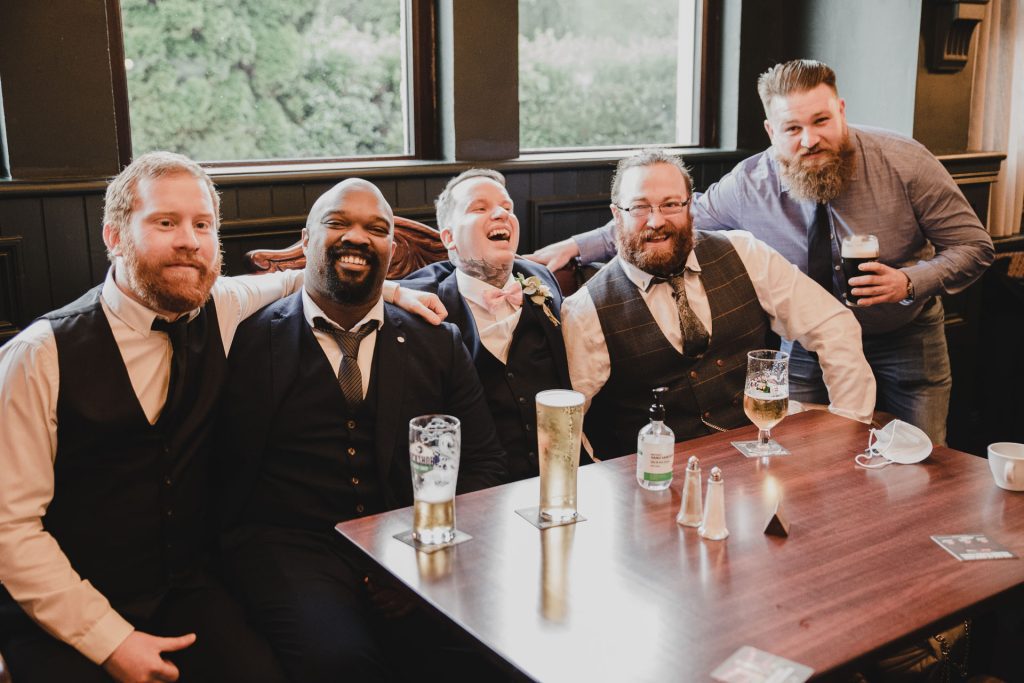 The photojournalistic approach to wedding photography places the emphasis on having fun while getting spontaneous, emotional and candid shots. The amount of time the photographer spends with you will be determined by your budget. Wedding photojournalism is about documenting the story of your day as it unfolds in front of you.
Photojournalistic wedding photos are generally taken before ceremony begins, during the vows, after the couple has been pronounced husband and wife, at receptions or any other part that may not have been documented by traditional photographers which include details shots , reception dancing photographs , guest party photographs , etc .
For this style of wedding photography, professional photographers carry a lot more equipment than they do for traditional wedding portraits. They use zoom lenses to snap quick candids, a long telephoto to shoot from a distance, at least 2 professional digital cameras (DSLR). With this type of wedding photography it is essential that your photographer works quickly and unobtrusively.
Editorial Style Wedding Photography
There are a lot of different styles and techniques that photographers use. But there's one style in particular, Editorial Style Wedding Photography, that is perfect for any bride or groom looking for something different from traditional photography.
In editorial style weddings, the images are often more candid and less posed than traditional shots. The photographer will work with couples to capture natural moments as they happen throughout your big day. This type of photography is sometimes called "photojournalism", but has a few differences. It can be a great choice if you're looking for something fresh and new!
Vintage Style Wedding Photography
When most people think of wedding photography, they imagine a photographer who takes traditional posed shots of the bride and groom. However, there are now many different styles of wedding photography to choose from, including vintage style wedding photography. This type of photography captures the feeling of a bygone era, with romantic sepia tones and soft lighting. If you're looking for something a little different, vintage style wedding photography may be the perfect choice for you.
Aerial Wedding Photography
Another and more recent type of wedding photography is aerial photography. It has seen a huge increase in popularity over the past few years, both for weddings and other occasions.
Aerial photographers can shoot at many different altitudes using either drones. If you plan to have drone shots at your wedding, avoid disappointment by making sure in advance that the venue is not located in a no-drone-zone.
Fine Art Wedding Photography
Fine Art weddings are more directed toward people who want fine art wedding photos. Also, many people may have never even heard of Fine Art Wedding Photography so they do not know what to expect. This style is very artistic with clean lines and minimalism being portrayed through out the images of your wedding day. You can expect your photographer to be active in their photojournalism of your wedding day with lots of movement around the "set" (your wedding, reception and/or other locations like church or outdoors). They also will move quickly since they are actively looking for clean lines and trying to find compositions without clutter in the background.
Now that you've seen some of the most popular wedding photo styles, you may begin your search for photographers. Most photographers will have their own style of how they photograph and edit the weddings they shoot, so ask about their style and what your wedding will look like. If you're not sure yet of the style you want, consider doing some research on how a photographer works to see if it matches up with what you have in mind for your own special day.
Once you've found a few photographers that may be right for you, have them send over some samples of their work, for many photographers samples can be seen on their portfolio page on their website. Ask them what types of shots they will take during the ceremony and reception so there are no surprises as far as picture styles go on the day of your wedding.