Almost every bride dreams of an outdoor wedding in beautiful picturesque surroundings. For many couples, this is exactly what they plan for their big day but at the mercy of the Irish weather, outdoor weddings are always a gamble.
While you can't control the weather on your wedding day, there are some things you can do to prepare for a wet weather scenario. Here are some tips on what to do if it rains on your outdoor wedding day.
Have a Backup Plan
Ideally, you should have a backup plan for both the ceremony and reception in case of bad weather. This could be anything from booking a local hall or church to setting up a marquee in the garden. If you have your heart set on an outdoor ceremony, make sure you have a contingency plan in place in case the weather doesn't cooperate.
If you are having a civil ceremony at the same location as the reception, talk to the venue's wedding planner about their 'plan B' if it rains. Many venues will have procedures in place to bring the wedding indoors if it rains.
Inform Your Guests
Check the weather the day before, and if it looks like the weather is not going to be ideal for an outdoor wedding let the guests know so they can dress appropriately and also bring umbrellas in case they do get caught in the rain.
Embrace The Weather
Just because it's raining, doesn't mean that your wedding day has to be a total washout. Embrace the weather and make the most of it. After all, it's not every day that you get married in the rain!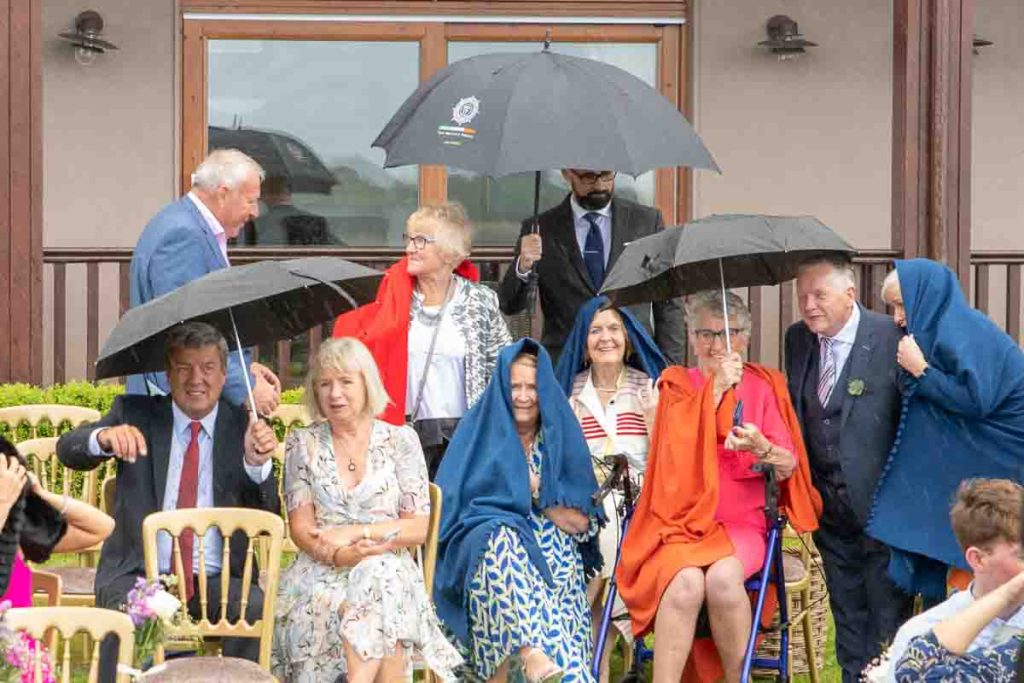 Have Fun in The Rain
Ultimately, the most important thing is that you have a great day and make memories that will last a lifetime. So, even if it does rain, don't let it ruin your day. Just enjoy every minute and make the best of it.
Consider the Season
When choosing a date for your outdoor wedding, it's always worth considering the season. If you're getting married in Ireland, the summer months are usually the driest but there is still no guarantee that it won't rain.
If you're set on an outdoor wedding, consider getting married in the spring or autumn when the weather is usually more stable.
Whatever you do, don't let the weather ruin your big day. With a little bit of planning, you can still have the perfect outdoor wedding rain or shine!