When I was contacted by Heidi from Maryland USA, I could already feel the excitement of what she was trying to plan for her surprise engagement to the love of her life, Colleen.
Heidi was planning a trip for the 2 of them to Ireland, where they would spend a few weeks traveling around the west coast along the Wild Atlantic Way. She wanted somewhere special to pop the question, and wanted it to be photographed.
How do you photograph someone without them knowing you are photographing them, when you are in clear view of them? Well, that's were I had to get a little creative!
The Venue
The place chosen was the Cliffs of Moher along the Wild Atlantic Way in Co, Clare. The cliffs are a popular place for landscape & seascape photographers, which made it the perfect place to set up my camera and not look suspicious at all!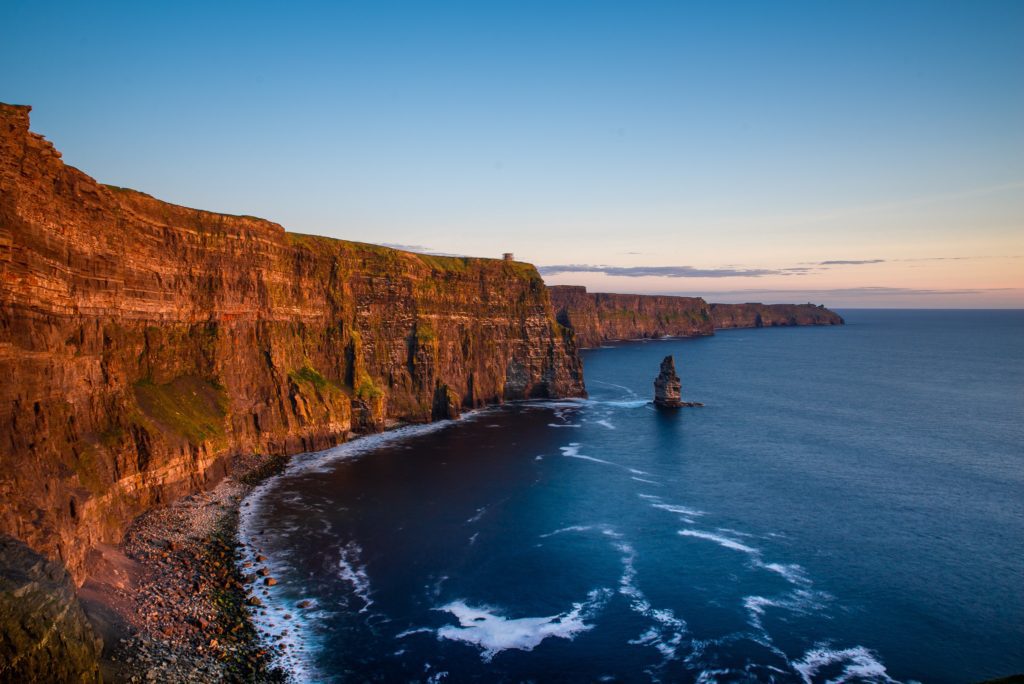 Heidi had contacted me just over a year prior to their trip to Ireland, so we had plenty of time to organised and get the details ironed out The date was booked for the shoot, the venue was set, and Coleen was non the wiser.
Shoot Day
After some back and forth and a last minute change of date due to some changes in travel plans, we arranged a new day for the shoot, which was kind of lucky because the weather was not great on the original date, and conditions along the cliffs can get quite bad if the weather is not good.
So, the day arrived, I was up early to make my way from Athlone to the Cliffs of Moher for the surprise engagement shoot. I parked the car, started my 20 minute walk to the agreed location along the cliffs and set up my camera with my 300mm lens. If Coleen knew anything about photography, this lens would have been a big giveaway that I was not there to shoot the cliffs. I would have needed a much wider angle lens for that!
It was about 20 minutes before Heidi and Coleen showed, and I was not sure at what part of the cliffs they would stop for Heidi to propose! I was in full view of Coleen, which meant I could not point the camera in her direction or it would have given everything away. This needed to be a surprise!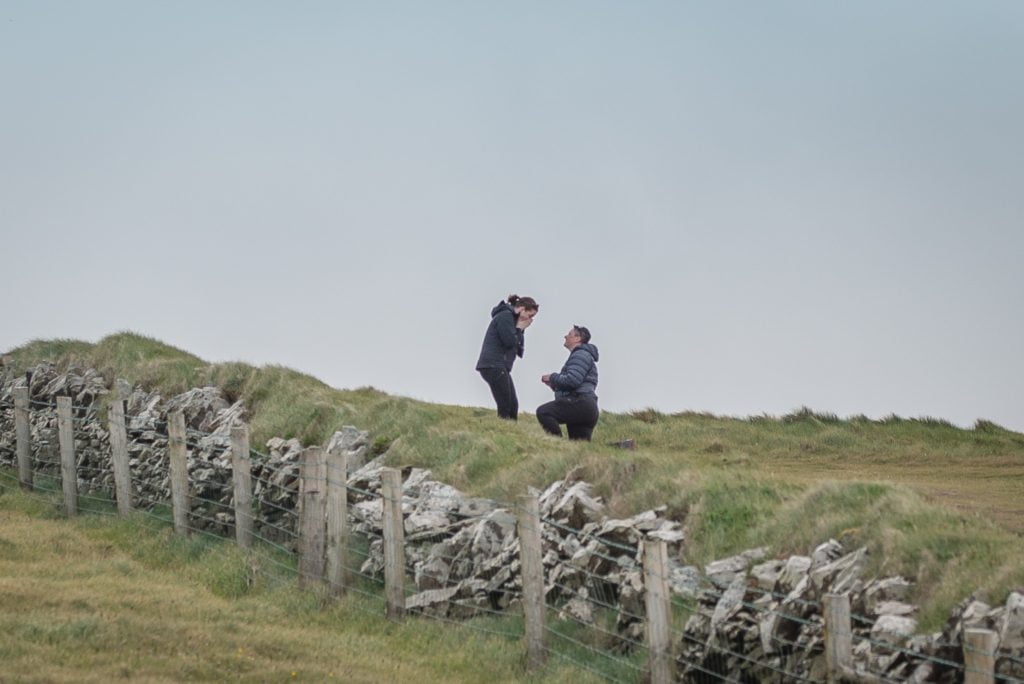 As I watched out the corner of my eye, I noticed they had stopped, and knew that this was the moment their lives were about to change, so I turned my camera towards them, and started shooting like crazy so I didn't miss a single moment! Coleen still had no idea they were being photographed, but Heidi knew and she took Coleen's hand and started to walk towards me. At this point they were facing me, walking down the hill towards me. I was still shooting, getting the emotions of the moment as much as I possibly could. Coleen was so emotional, she still didn't realise what I was doing, until they reached me, and I congratulated them. Emotions were high, and I think I almost shed a joyful tear myself!
After my introduction to Coleen and congratulations to the fantastically excited couple, I stood back to leave them alone and let the experience sink in. Coleen was still very emotional, and this was not something I was going to miss, so I kept shooting, getting every moment of emotion until the tears ran dry.. happy tears, of course!
This was an amazing morning, one I won't forget for a long time!